100kw maglev blower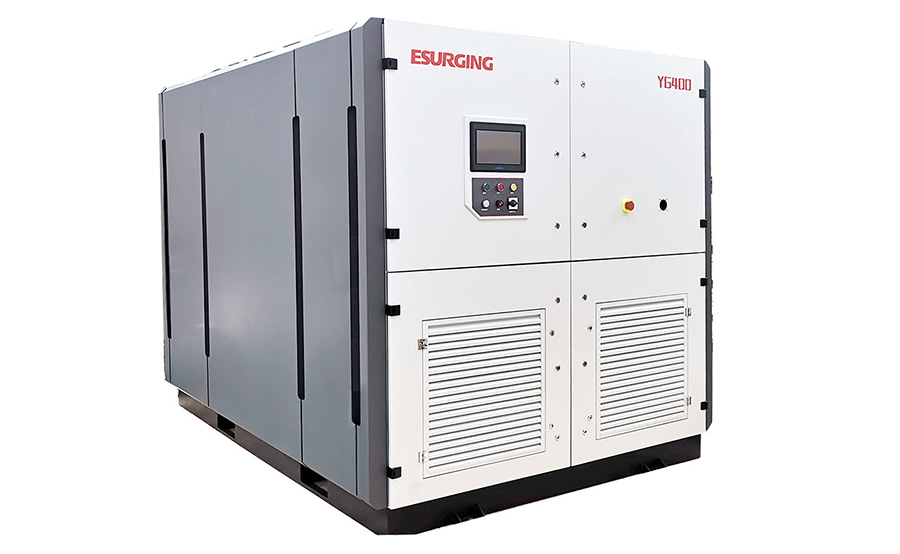 400kw maglev blower
Esurging is develomaglev blower ped by Emaging 5-DOF active magnetic bearing and high-speed permanent magnet synchronous motor and the world's leading turbine mechanical technology.
The blower is directly connected by high-speed permanent magnet synchronous motor and high-efficiency three-dimensional flow impeller, without contact, friction or lubrication, which completely eliminates the transmission loss; the impeller is made of high-strength aluminum / titanium alloy, which is tested by 100% X-ray inspection and 115% over speed test to ensure efficient and reliable operation; the blower realizes intelligent control of frequency conversion, which can realize local and remote control; the whole machine adopts skid mounted mechanism, compact layout and convenient installation.
Esurging has 8 series of maglev blower products, namely YG75, YG100, YG150, YG200, YG300, YG400, YG700 and yg1000, which have passed the inspection of the national authority. The scientific and technological achievements have been appraised by the Ministry of industry and information technology as "international leading", selected into the catalogue of energy-saving mechanical and electrical products of the Ministry of industry and information technology and awarded as "energy efficiency star".
Esurging maglev blower can save more than 30% energy compared with conventional blower. Andreach noise level of 80dB.It is an energy-saving and environmental protection product with intelligent control and maintenance free. It has been widely used in more than 30 provincesin China. It has been selected into "national industrial energy saving technology application guide and case" and "key environmental protection practical technology and demonstration project" of Ministry of industry and information technology ofChina.
【 Working principle】
Air enters the three-dimensional flow impeller directly driven bymaglev high-speed permanent magnet motor. Driven by the high-speed rotating impeller, kinetic energy and pressure potential energy are generated. Part of the kinetic energy is converted into pressure potential energy in the diffuser and volute channel, changing the flow direction, and finally enters the pipe network through the exhaust pipe.